CUT WASTEFUL SPENDING.
REDUCE THE DEBT.
GET FORT WAYNE WORKING AGAIN.
THE HUGHES TRACK RECORD
Took the county from an $8 million debt to a $22 million surplus
Transformed the way the county budgets and created a "rainy-day" fund so Allen County could make plans on a cash-basis
Worked to keep and expand businesses in Allen County
Led the county council and was twice elected President by her peers
Signed the Taxpayer Protection Pledge
FORT WAYNE NEEDS A NEW DIRECTION
Thousands of Jobs Lost and Unemployment is up 85% since Tom Henry was elected.
Record debt. The City of Fort Wayne is over half a billion dollars in debt and has been ballooning it's debt at a higher percentage than the Federal government.
Overspending. Fort Wayne's overspending starts right at the top. In fact, the Mayor of Fort Wayne is the highest paid mayor in Indiana and he even makes more than our Governor.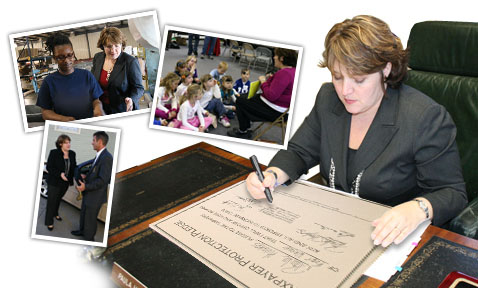 Tweet This Post